Fall 2018 – Clark Institute – MASS MoCA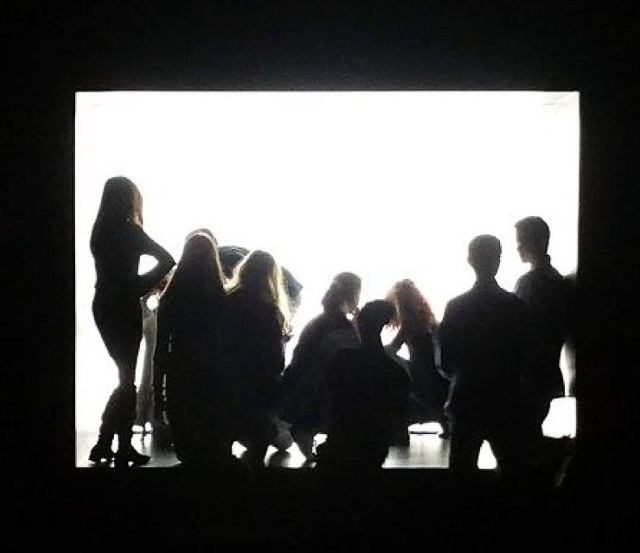 Clark Institute – MASS MoCA – How To Look At Art, Ideals of Beauty & The Impressionists – Fall 2018
Prior to the trip, students were asked to start learning the vocabulary involved in describing a portrait. This included a detailed list of parts of the body as well and describing someone's personality. Students were then given a quick lesson on how to draw a portrait and were asked to work with a partner and draw each other in class. Along with the drawing, students were asked to write a "portrait" of their partner in French. Students later presented their portraits of their partners and read their description aloud to the class. Next year I believe I might spend some time allowing students to alter the portraits that were made of them and then explain the changes they made to the class. (I got this idea from a workshop I recently attended at the art museum at SUNY New Paltz).
In the time before we headed to the museum, students also learned about the traditional French Academy art and then in depth about the Impressionists. They specifically learned in more detail about Degas, Renoir, Morisot, Manet, and Monet. They also learned about the post Impressionists like Van Gogh, Gauguin, Rousseau, Toulouse-Lautrec, Matisse, and Claudel. Many of these artists were represented at the Clark Institute.
Our journey to the museum was filled with fun and games. I had prepared some activities including a French scavenger hunt. Some of the new vocabulary came in handy at the museum, there was a brown cow in one of the paintings!
Our first stop was at the Clark Institute. My goal was to have our students interact with art, experience 2 different types of art museums and to use the target language. I was not disappointed and could not have been more proud of my students. It was such a professional success to watch my normally very quiet and shy students (this group in particular) interact with a French-speaking docent, specifically a stranger, in French about art. They were engaged and demonstrated previous knowledge of what they had learned about beauty, portraits and the Impressionists in the classroom the weeks previous to our trip. In French they were summarizing what they saw in the art, contrasting and comparing with other pieces in the museum. They even started being able to deduce what was going on in some paintings. They learned how to be present in a museum, how to interact with docents and enjoy looking at art. And to be honest, one of my favorite parts, we had a really good time together. To some that might not seem important, but I believe it is invaluable in building relationships that then make the learning environment in the classroom more meaningful.
For some of my students, this was their first time in a museum and they had fun, I call that a success. Upon returning to the classroom, each student prepared a presentation on an Impressionist painting.
Students were much more confident speaking about art while presenting their projects.
Our next stop was to MASS MoCA. It was simply delightful to also experience contemporary art and really push the boundaries of what is art. For the high school students, their very first exhibit was "TARYN SIMON A COLD HOLE ASSEMBLED AUDIENCE". We watched, behind a large window in a dark room as a gentleman slowly prepared himself to plunge into freezing cold water. Students were questioning what was the art? The anticipation of him jumping, the set up of the room, the photographs they took? Or were we the art? Or possibly the applause and celebration once he finally made the cold water plunge was the art?
Much of the art at MASS MoCA is a bit larger than life and evocative and really blows students minds. At MASS MoCA they use music, sculpture, dance, film, painting, photography, theater, which really captures the attention of students. Many of the exhibits/artists also tackle social issues, engaging the mind body and spirit.
On each tour, the docents pushed students to interact with the art in new ways. In our group, the docent asked a few students to pick an object in a painting and to describe what was around them and how they were feeling from the perspective of the object. In the tour with the younger students, they were encouraged to look at a sculpture from below by laying on the ground. After the formal tour, students were able to explore other exhibits so each group ended with a slightly different experience.
Thank you so much for this amazing opportunity for our students. I truly believe this was a wonderful learning experience for them and has opened art appreciation and being comfortable in varying types of art museums to them. We can only hope that this will be the first of many visits to art museums for them.